PCD Pharma Franchise Company in Madhya Pradesh – Madhya Pradesh is the major state of India that has the drastic demand of PCd franchise Business. If you are the one looking for Pharma Franchise Opportunity in Bhopal, Indore, Jabalpur, Gwalior, Ujjain or any place in Madhya Pradesh then you are on the right place. Medibyte is a reputed top PCD Pharma Franchise Company in Madhya Pradesh to bring you a genuine pharma franchise and PCD pharma franchise in India. We always welcome the people from all over central India to be a part of our franchise opportunity in Madhya Pradesh. Through our PCD Pharma Franchise in Madhya Pradesh, we aim to come over the scarcity of medicines.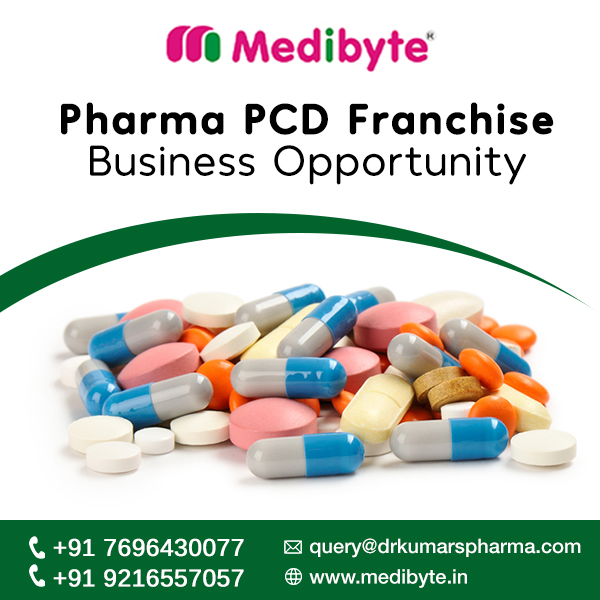 Medibyte offers a huge range of drug formulations that cover dental, ayurvedic, diabetic, cardiology, nutraceuticals, dermatological medicines, etc. All these products are DCGI approved and have good quality, efficacy, purity, and durability. The price of each medicine is genuine and we offer Franchise opportunity to the people of Madhya Pradesh at very genuine rates. We always appreciate the requirement of incorporating high-quality pharmaceutical products for PCD Pharma Franchise in Madhya Pradesh. To become the business partner of Pharma PCD Franchise in Madhya Pradesh, do not hesitate to contact us on +91 9216557057 or you can also mail us at query@drkumarspharma.com.
Location covered under Monopoly PCD Franchise in Madhya Pradesh
Medibyte provides all the monopoly rights to their franchise partners. With the help of this marketing and distribution monopoly rights, our franchise partners can choose their targeted areas in Madhya Pradesh for the distribution of Pharmaceutical products and medicines. If you are someone who is looking for a PCD franchise then Medibyte is the best option for you as we are covering all its major locations like Agarmalwa, Jabalpur, Raisen, Alirajpur, Damoh, Rajgarh, Shivpuri, etc to offer Pharma Franchise opportunity. Here are the following places of Madhya Pradesh where the franchise is available by our company:
Bhopal Division: Bhopal District, Rajgarh district, Vidisha district, Raison District, Sehore district
Chambal division: Morena, Sheopur, Bhind
Gwalior division: Gwalior, Shivpuri, Datia, Guna, Ashoknagar
Indore division: Alirajpur, Barwani, Indore, Dhar, Jhabua, Khargone, Burhanpur, Khandwa
Jabalpur Division: Bala Ghat, Jabalpur, Katni, Mandla, Seoni, Dindori, Chhindwara, Narsinghpur
Narmadapuram Division: Betul, HArda, Hoshangabad
Rewa Division: Rewa, Sidhi, Singrauli, Satna
Sagar Division: Chhatarpur, Panna, Sagar, Niwari, Damoh, Tikamgarh
Shahdol Division: Anuppur, Shahdol, Umaria
Ujjain Division: Agar Malwa, Mandsaur, Neemuch, Shajapur, Ujjain, Dewas, Ratlam
Quality Drug Range for Pharma PCD Franchise
Medibyte is involved in the manufacturing, marketing and supplying of the wide variety of quality pharma products. Our company has set the benchmark in providing superior quality pharma products and medicines. We have hired professionals and experts of Pharma who always bring a highly effective and innovative range of products by implementing creative ideas. Our organization has a special quality department that keeps checking on each and every process i.e, from manufacturing to dispatching. All the products are only delivered after the testing as per the various quality parameters. Medibyte has the best business opportunities in Madhya Pradesh. One can start off their business in the general or specialized division. Some of them are as follows:
Analgesic
Anti Allergic
Antispasmodic
Anti Ulcerant
Anti Vomiting
Antibiotic
Antioxidant & Multivitamin + Lycopene
Antipyretic
Bile Acid
Co-Enzyme with Multivitamin
Cough Syrup
Dermatology
Enzyme Syrup
Gastroenterology
Haematinic
Iron
Multivitamin
Neurology
Orthopedic
Steroid
These cover different drug dosages like tablets, capsules, spray, drops, syrups, injectables, caplets, creams, ointments, softgels, etc. All these products are DCGI approved and you get to have the best range in the whole market at most affordable rates.
Reason to connect with us in Madhya Pardesh :
We are inviting all competitors who need to interface with us For Third Party Manufacturing, PCD Pharma Franchise, Pharma Franchise, or some other open door you can visit Our site and get extra information. we are now on your own city to provide you your choice of Business.
We have the most precise packaging available for you with a wide range of Products on perfect delivery time and date.
Focusing on the quality we are delivering the best material in market to overcome the demand.
Our products are the reason which gave a large count and makes Pharma Franchises to connect with us.
Pharma Franchise Opportunities in Madhya Pradesh
Madhya Pradesh is a state in central India and is one of the largest states of India, holding 9.37 per cent of India's area. One can see good demand for medicines and healthcare facilities in Madhya Pradesh. Pharma franchise is one of the well-known business opportunities one can choose. There are many factors which contribute to the growth of the pharma Franchise includes:
The pharmaceutical industry is a booming business in Madhya Pradesh nowadays and majority of youth going for Pharma studies result of which many new medical colleges and Pharma institutes are opened. Therefore, it's a very good area to put your money and people are interested in investing in the Pharma sector of Madhya Pradesh.
Availability of basic infrastructure facilities & quality manpower in Madhya Pradesh promotes the various types of Pharma business in the state.
The Pharma Franchise business can be started with low business and gives good return capacity. Therefore, you can start anytime and create it into a good business opportunity.
Madhya Pradesh has a good area and population which makes it an ideal pharma franchise business location in India.
The risk factor involved is low as the pharmaceutical industry has the highest profit earning capabilities. The franchise is one such venture which is regarded as the best scope in this sector.
Advantages of associating with Medibyte | Top PCD Pharma Franchise Company
Medibyte is a reputed and licensed pharma company. We always aim to increase access to high-quality healthcare by developing, producing and marketing at affordable pharmaceutical products. Our company good brand image and high-quality products have always been a reason for our good customer base. We are providing you an opportunity to start your own business successfully in the pharmaceutical sector by providing its Franchise in Madhya Pradesh for PCD Pharma/ Pharma Franchise. We ensure that you will get the best support from our end to start their business successfully in the pharmaceutical sector. Here are the advantages of associating with us for Pharma Franchise business:
Medibyte always provides monopoly rights to their franchise partners.
Our company will provide you all the necessary tools of marketing and promotions to advertise the pharma products in different parts of Madhya Pradesh. Some of the promotional tools are- Catch cover, Visiting Cards, Visual Aids, etc.
We offer an incentive to our Pharma Franchise partners in Madhya Pradesh for achieving their annual targets.
The existing products of our company are regularly updated by the research and development team so that you can compete more effectively.
The timely delivery of products is assured from our end.
Quality packaging material is utilized by us to avoid any kind of spoilage and the product's long shelf life.
With the help of our most experienced marketing team, we are capable to provide you with the best marketing strategies.
Contact Information
Name: Medibyte
Address: SCF – 421, Ist Floor, Motor Market, Manimajra, Chandigarh
Phone No: +91 9216557057
Email Id: query@drkumarspharma.com