PCD Pharma Franchise in Maharashtra – Maharashtra is the financial hub of India where various pharmaceutical companies have established and grown substantially. The state is home to around 3,139 pharma units with major centers in Mumbai, Pune, Thane, Nashik, and Aurangabad. The government of Maharashtra has taken an initiative by setting up a single-window system to grant the pharmaceutical companies a clearance and address their grievances. By taking the benefit of the growth of the pharmaceutical industry Medibyte Pharma has set up a pharma company and now providing a PCD Pharma Franchise in Maharashtra.
Medibyte Pharma is an ISO certified pharma franchise company in India. Over the passing years, the company has made a notable presence in the Indian pharma market. We are dealing with a wide variety of pharmaceutical formulations such as tablets, capsules, sachets, syrups, drops, protein, injections, etc. The primary goal of our company is to provide better healthcare to the people and accomplish business goals. By providing the PCD Pharma Franchise in Maharashtra we have open the doors of opportunity for all the potential individuals who want to develop their business.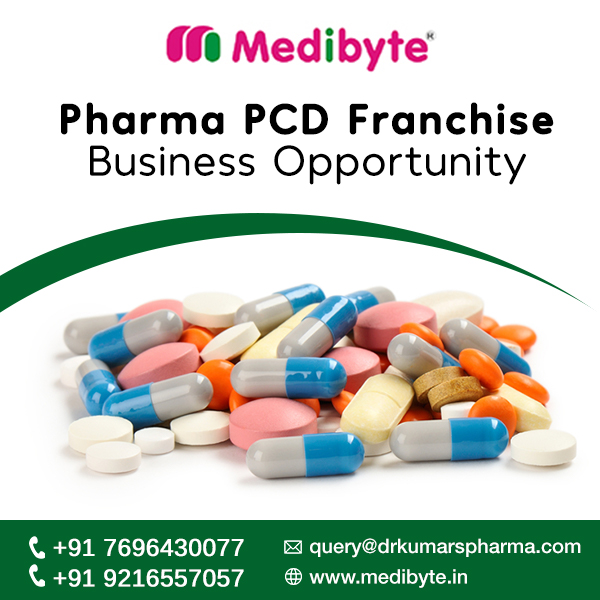 Investment in the right and reputed PCD franchise company in Mumbai will be beneficial for the market players. For more details about our company feel free to call us at +91 9216557057 or you can also send us an mail at  query@drkumarspharma.com. Our team member will respond to your query as soon as possible.
Maharashtra' Emerging State in Terms of Pharmaceutical
Maharashtra is the foundation of the country's pharmaceutical industry as such it is home to globally well-recognized makers of quality and affordable generic medicine. Undoubtedly we can say the state comprises of the top ten pharmaceutical companies of the country. Maharashtra's contribution to the pharma market is around Rs 19,000 crore out of Rs 59,000. The state has 347 bulk drug units, 693 formulation units, and numerous manufacturing units.
The real strength of the state lies in the availability of skilled manpower such as pharmaceutical research scientists in the field of pharmaceutical chemistry, pharmacists and microbiologists.  The competition in the pharmaceutical is snapping away at its heels and numerous market players are entering the field to have a profitable venture. By looking at the growth of the pharmaceutical industry in Maharashtra, it is clear that the business of PCD Pharma Franchise in Maharashtra would be successful for wholesaler, stockiest, retailer, entrepreneur and even the newcomer.
Monopoly Based PCD Franchise in Mumbai
Medibyte Pharma never compromises with both quality and services. For the overall growth of the business at a good pace, we are providing exclusive monopoly rights to our franchise holders. By investing in our company you can have franchise business in any of the districts of Maharashtra. This helps you to know early the marketing strategies of the particular district and you can also beat the high competition. The privileged of monopoly rights given by our company gives you the freedom to work independently and increases your pharma sales. Owning a PCD pharma franchise will definitely make you earn more profit in a short duration.
Below given is the list of vacant districts of Maharashtra where we are providing PCD pharma franchise:
Amravati
Akola
Yavatmal
Beed
Nanded
Latur
Osmanabad
Latur
Hingoli
Jalna
Mumbai
Parbhani
Buldana
Washim
Aurangabad
Why Medibyte Pharma is the Ideal Choice for PCD Franchise Business in Maharashtra?
Medibyte Pharma is the fastest growing pharmaceutical company who is well known for its flawless drug range. The company aims to provide quality assured products to its valuable customers and clients. The complete range of pharma is produced by us in adherence with WHO-GMP standards. We are dealing professionally and transparently with our franchise holders and this is appreciated by everyone. In the competitive pharma sector, we are providing complete assistance to our associates. Below given are the PCD pharma franchise services that we are offering:
Promotional Kit: Advertisement is quite essential for the expansion of the pharma business. Therefore we are providing a complete list of promotional tools such as calendars, visual aid, diaries, brochures, written pads, visiting cards, pens, gifts, reminder cards, samples, etc.
Delivery within 24 hours: We make sure to deliver the order of our clients within the stipulated time. And that is why we are able to build a strong and long term relationship with our partners.
Leakage Proof Packaging – The packaging is the prime concern of our company and thus we utilize air-tight packaging material on every product.
Frequent Updates on the Product Range –  Our research and development team is determined to bring an innovative and effective range of products as per the uncertain market demand.
Contact Information
Name: Medibyte
Address: SCF – 421, Ist Floor, Motor Market, Manimajra, Chandigarh
Phone No: +91 9216557057
Email Id: query@drkumarspharma.com