PCD Pharma Franchise in Rajasthan – Medibyte is certified from governing authorities such as ISO, GMP, WHO as well as DCGI and FSSAI approved companies. We deal in a wide spectrum of medicines consisting of Antibiotics Injections, Analgesic Tablets, Anti Spasmodic Tablets, Anti Vomiting Medicines, Digestive Enzyme Syrup, Antipyretic Liquid Suspension, Dermatology Range, Ortho Products, Multivitamins Range, and products in related categories. our company continuously discover new ways to improve and help people to lead a healthy lifestyle by offering a PCD Pharma franchise in Rajasthan.
The company is trying to keep up the pace by constantly working on the improvisation of our research and development and technological advancement. We are our manufactures for a quality product with 100% assurance to the final consumer thus creating a benchmark in the league. Sticking to our USP of quality and width of products we are the topmost company across the nation serving with utmost sincerity to create ways to extend people's lives. Our company is serving through the PCD Pharma Franchise in Rajasthan and across other states as well.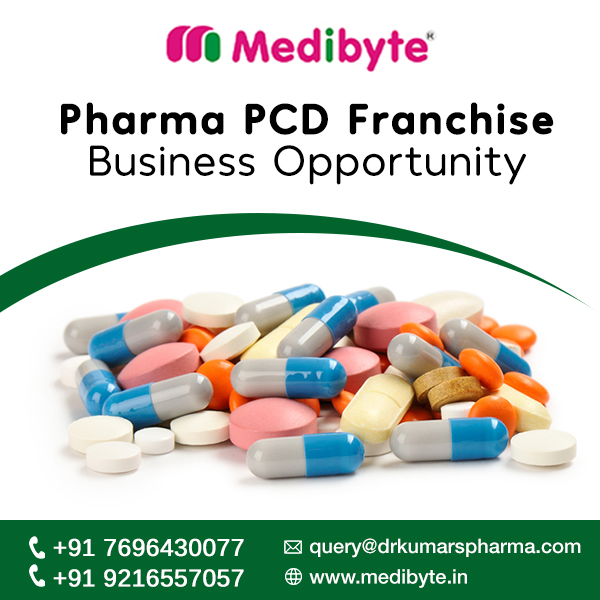 Vacancy for Pharma Franchise Opportunity in Rajasthan
We are situated in several locations Through our PCD Pharma franchise model.
(Jaipur/Alwar/Jhunjhunu/Sikar/Dausa)
(Barmer/Jaisalmer/Jalore/Jodhpur/Pali/Sirohi)
(Ajmer/Bhilwara/Nagaur/Tonk)
(Udaipur/Banswara/Chittorgarh/Pratapgarh/Dungarpur/Rajsam)
(Bikaner/Churu/Sri Ganganagar/Hanumangarh)
(Baran/Bundi/Jhalawar/Kota)
(Bharatpur/Dholpur/Karauli/Sawai Madhopur)
Quality Array of Certified Products
Medibyte Pharmaceutical company based in Chandigarh with professional expertise in providing high-end drug solutions. We PCD Pharma franchise company in Rajasthan aims to fight against various health diseases. Our launch of an extensive array of quality pharmaceutical products and medicines acts as a shielding weapon against the diseases prevailing in society.
Injectable Range
Orthopedic Range
Paediatric Range
Gynaecology Range
Antibiotics Range
Herbal Range
Derma Range
Ophthalmic Range
Cardiac- Diabetic Range
Objective of Medibyte :
Aiming to work to acquire excellent quality in products Medibyte is has become the face of Indian Pharma Market. By giving across the country Franchise openings Medibyte has set up an extraordinary system of its image. We give free examples and limits to Pharma Franchises with the goal that they can do great in their Business. Our responsibility to our customers and our related establishments is of a quality product which additionally incorporates the best estimating, DCGI affirmed Products, high stockpiling of stocks, Monopoly based business, and so on.
Company Mission & Vision :
The company overviews various opportunities to expand its business operations and serving people at its best. The company is offering PCD Pharma franchise in Rajasthan and other regions in the country to cater to
Local to Global
Standardization
Ecofriendly
The vision of Going from Local to Global:
Being based in Chandigarh we have developed our business support throughout the nation through proper channel management and PCD pharma franchise model. We comprise a systematic and dedicated distribution management system. Our network is having a willing logistic partner with the provision of support in all territories across the nation in different zones. Transportation facilities are very reliable in delivering the product at the right place within a perfect phrase of time. This all happens with a combined effort and experience.
The optimum level of Standardization:
We have proper management for our quality control system which makes sure that the right quality product reaches the customer. Quality playing as a vital role in the standard of drug solutions is something that is not compromised at any cost. Strict policies and procedures are followed to sustain the quality of the product for assurance. Being associated with WHO and DCGI we make sure that an optimum quality level product reaches the consumer which is durable and safe for usage.
Ecofriendly:
We use our technological advancement in such ways so that consumers enjoy our products ensuring high effectiveness. We have developed eco-friendly processes to bring our changes in the product economically as well as ecologically. Selection of raw organic material, water waste recycling and reuse of the material for the improved product as well as quality management.
Requirements To Take PCD Franchise from Medibyte
Documentation and registration required :
Due to the involvement of drugs and medicines and other related products, there are several restrictions in the industry that are to be verified with licenses and registrations. The same is mandatory to achieve a PCD franchise business in association with a reputed Pharmaceutical firm.
Cost of licenses are as follows :
Drug License number: Rs. 5000/- ( varying to state boundaries )
Tax Identification no. : Rs 4500/-
( Changes in tax reform with inclusion GST may affect the cost from state to state or limited boundaries )
Joining Our leverages: PCD Pharma/ Pharma franchise.
For PCD franchise
For franchise member
The Growth Prospect of Joining Alliance :
Medibyte is one of the most renowned pharma franchise companies in India providing ample opportunities for growth. We provide one of the best Pharma franchise experiences and believe in building strong relationships. We provide Promotional and marketing support to our franchise members opening the door for several benefits such as :
Providing monopoly rights to pharma franchise members
Assisting with additional promotional support to gain reach in the market
Fulfilling the quality requirements of products
Giving facilities of credit and financing.+