Gynecology Products Franchise Company in Uttar Pradesh– Gynecology products are in high demand in Uttar Pradesh, as women's health has become a major issue in the pharmaceutical industry. Women begin taking gynecological products and medicines while they are in their teens and continue to do throughout the year. As a result, the Gynae Market is enormous, as is the chance for individuals who wish to start a Gynecology Products franchise Company in Uttar Pradesh. Medibyte is a major pharmaceutical firm with an ISO accreditation that efficiently satisfies the needs of its clients in different areas of Uttar Pradesh like Kanpur, Lucknow, Saharanpur, Meerut, Ghaziabad, etc.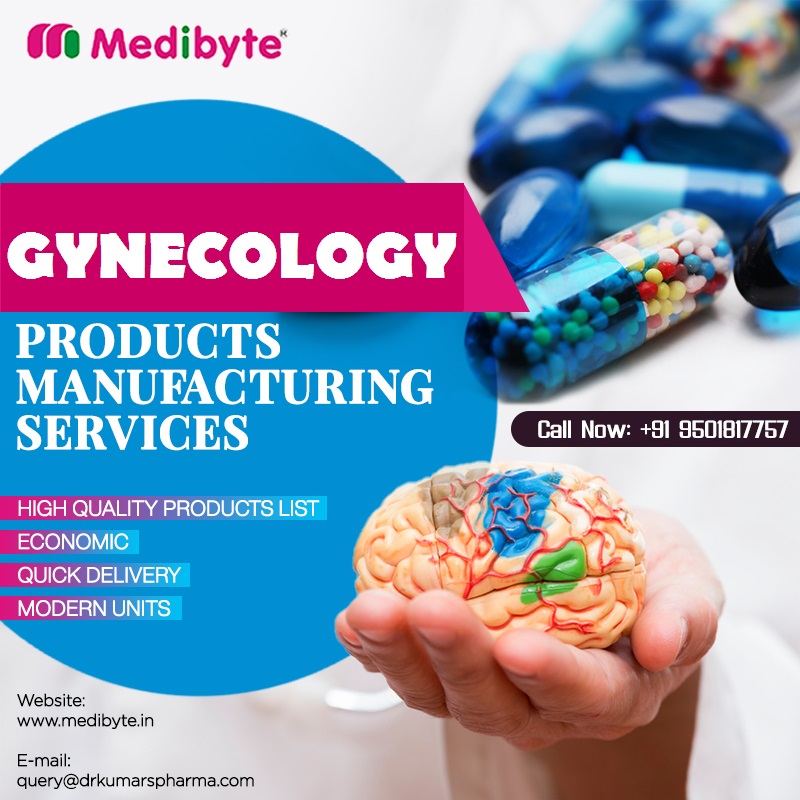 Transparency, ethics, cooperation, and many more key characteristics are well-known at Medibyte. The firm is backed up by world-class manufacturing facilities that have been certified by the GMP and WHO. We exceed in producing a multi-specialty range of Gynae products while adhering to strict quality control and assurance procedures. So, if you want to create a Gynae PCD Franchise, we are the finest choice for you. We offer Gynae goods franchise opportunities across Uttar Pradesh. For the Gynae Range, we work with a number of pharmaceutical distributors. As a result, we are the top Gynecology Products Franchise company in Uttar Pradesh.
So contact Medibyte for the highly demanded Gynecology Medicine Range and make your career better in several regions of Uttar Pradesh like Ghaziabad, Kanpur, Alipur, Faizabad, Lucknow, Meerut, Varanasi, Saharanpur, etc. Call us at +91-9501817757 or drop us a mail at query@drkumarspharma.com.
In Uttar Pradesh, You can Enjoy a Monopoly-Based Business
Uttar Pradesh is one of the largest states of India and also has a huge population. Here, there is a large profit margin to be had. Better pharmaceuticals growth in UP is due to a greater awareness of high-quality healthcare drugs. Medibyte provides you with the opportunity to establish or build your own business. We have 75 districts divided into 18 divisions. The following are the locations where we conduct PCD business in Gynecology Medicines:
| | |
| --- | --- |
| Agra | Jhansi |
| Aligarh | Kanpur |
| Allahabad | Lucknow |
| Azamgarh | Meerut |
| Bareilly | Mirzapur |
| Basti | Moradabad |
| Chitrakoot | Saharanpur |
| Devipatan | Varanasi |
| Faizabad | Gorakhpur |
Find the Best Quality Gynecology Range for Pharma PCD Franchise
Experts supervise the production of each dosage unit. We are a reputable firm that gynecologists across India recommend. multivitamins, Folic acid supplements, uterine tonics, Hormone medications, antibiotics, antibacterial medicines, and other items are included in the product list. All of the items are DCGI authorized and made in certified facilities. We are experts in a variety of pharmacological treatments for women's health and sexual well-being. For development, production, and packaging, our organization follows the best GMP and WHO international manufacturing standards. Find the best quality women related medicine range for the PCD Franchise Business in Uttar Pradesh:
Natural Micronized Progesterone
Hydroxyprogesterone
Clindamycin Clotrimazole Capsules
Evening Primrose Oil B.P Softgels
Combo kit Of Fluconazole + Azithromycin + Secnidazole
Isoxsuprine
Letrozole
Allylestrenol
Medroxyprogesterone
Norethisterone
Scope of the Gynae Medicines and Products in Uttar Pradesh
The Gynae line has seen an increase in popularity in recent years. Gynecology Products are used to cure issues with sexual health in both men and women and the reproduction system of the women. The rising occurrence of infertility has resulted in an increase in personal issues such as irregular difficulties delivering a healthy baby, vaginal problems, menstruation cycles, hot flushes, difficulties conceiving, and so on. Breast cancer and urinary cancer patients are driving the growth of the Gynae drug industry, which is growing at a 5.6 percent CAGR.
The high demand for gynecologists in India reflects a large number of patients in need of high-quality care. So, if you're considering investing in a Gynecology Medicine PCD Franchise Business in Uttar Pradesh, Medibyte offers a high-quality Gynecology product variety at a reasonable price. Some of the reasons why the Gynecology market is the ideal option to create good income and profits are listed below.
Gynecology medicines are a fantastic investment in India since women are discovering a cost-effective spectrum of gynecology treatments.
Gynecology is the most in-demand segment among PCD Pharma Franchise's other product lines.
Women's healthcare medications are in high demand.
Associate with Medibute for the Best Gynae Products Franchise in Uttar Pradesh
Medibyte has more than 200+ pharma associates all over the nation. Now vacancies are open in Uttar Pradesh, so this is a great opportunity for the people of Uttar Pradesh to have their own business with unique monopoly privileges. Each of our members is given a large amount of space where they will be the single distributor/wholesaler/stockist. Our company's Gynae medicine is in high demand, and you may make a lot of money. Our ongoing goal is to provide a fantastic platform for our associates to earn a good living and have a secure future. Medibyte, one of India's major gynecology product firms, provides the following advantages to its associates:
Better opportunity to start a Monopoly based Franchise business in Uttar Pradesh
We have the best rates as compare to other gynecology products.
The company offers a genuine investment plan with secure returns.
Cost Free promotional Tools will help your bsuiness to make an unforgettable identity.
Contact Details:
Email: query@drkumarspharma.com
Call us: +91 95018-17757o scar